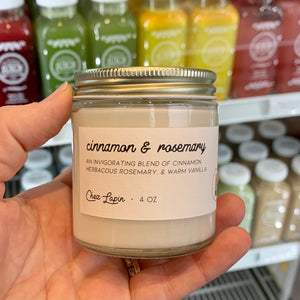 Cinnamon Rosemary Candle
Regular price $12.00 Sale
a Chez Lapin Original
4 oz Petite Jar // up to 30 hr burn
U.S. Grown Pure Soy // Phthalate-free
Infused with Essential Oils // Biodegradable
Top Note: Cinnamon + Clove
Mid Note: Vanilla Bean
Base Note: woody Rosemary
This candle is inspired by the days leading up to the big holiday- bonding with loved ones over holiday cooking and baking in the kitchen.
We love to cook for the holidays and were longing to see more herbal notes represented in holiday candles!
We decided to blend herbaceous Rosemary and spicy Cinnamon to create a rich yet earthy, delicious holiday fragrance.
Made in Pittsburgh, PA with 100% soy wax for an eco-friendly clean burn. Chez Lapin uses pure cotton wicks and premium perfume oils infused with essential oils.
Chez Lapin candles are vegan, cruelty-free, phthalate-free, and petroleum-free- as safe as a candle can be! A portion of Chez Lapin proceeds go directly to rabbit rescues and animal charities.