Juice made from simple, fresh, organic ingredients.
Juice that makes you feel good and that you can feel good about. That means it's organic with no added sugars or preservatives, it's vegan, eco-friendly, and produced locally by our woman-owned family business!
Need a reset? Look no further.
Add nutrients and enzymes to your diet through fresh, organic juice! The juices included in PJC Juice Programs are highly alkaline, highly nutritious, low in natural sugars and full of trace elements, making them ideal for a juice cleanse or as a supplement to your diet.
Click here to cleanse!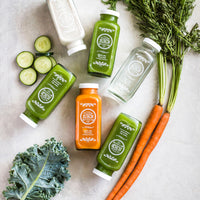 Vibrant Sunshine Kombucha
From the same team behind PJC, our effervescent probiotic tea is light, bright and refreshing. Made with sunshine and love.
Shop Vibrant Sunshine
Testimonials
I love being able to hydrate, cleanse or just plain quench my thirst with the great variety of drinks they provide.

Tim D.
ORGANIC, cold pressed juice, glass bottles for reuse, and a spotless shop.  This place is truly the only one of its kind I've seen in Pittsburgh.

Caitlin O.
Beautiful options for healthy living... feels like drinking life...

Renita L.
They have a great variety of juice cleanse plans to choose from, from balanced to fully green.

Mohamed E.
Juices here are amazing! I got the kale cucumber and felt like superman!

Reed W
Great service and great variety and flavor!

Julie K.
This place changed my life! The cold pressed juices are top notch, and there is something for all levels of health. This is literally the only place you can get organic, quick food. 

Sam S.
Healthy, wholesome, nutrient dense, cold pressed, organic and made fresh daily.  What else is there?

Eden M.
Highly recommend PJC, you can't go wrong with any of the juices. Very delicious, fresh & healthy!

Joy C.